Childhood Obesity Prevention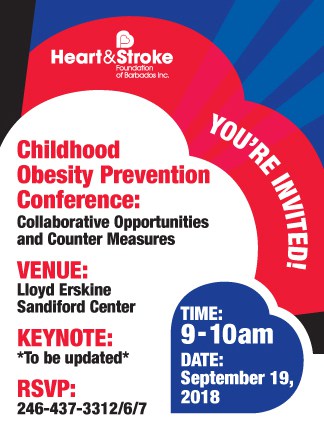 Childhood Obesity Prevention Conference: Collaborative Opportunities and Countermeasures
In September 2018, the HSFB hosted a childhood obesity prevention conference under the theme 'Collaborative Opportunities and Countermeasures' at the Sir Lloyd Erskine Sandiford Centre. This milestone event brought together stakeholders and members of the public to discuss opportunities for collaboration along with measures to counteract the pervasive threat posed by childhood obesity.
Speakers included some of Barbados and the region's top experts in public health and the significance of the issue was effectively captured by speaker Dr. Patrice Lawrence-Williams, PAHO's Country Programme Specialist. According to Dr. Lawrence-Williams, "PAHO proclaims childhood obesity is one of the most serious public health challenges of the 21st Century…our childhood obesity rates in the Caribbean are even higher than the global average and are increasing rapidly, thus providing a weighty challenge to our region."
This startling picture was reinforced by Professor Anne St. John, Director of the HSFB and a well-known paediatrician, who has been on the frontline for years and is a passionate advocate for obesity prevention. She stressed the need for a zero-tolerance approach and urged schools to take a serious look at what changes they can implement to create healthier environments for our children.
The conference also included presentations on front of package labelling and standards in Barbados, good eating for healthy living, and a review of the use of a 'sugar tax' as a deterrent to the use of sugar sweetened beverages presented by Dr. Natasha Sobers, Lecturer in Epidemiology. It was live streamed via the Heart & Stroke Foundation of Barbados facebook page and generated interest from viewers as far as South Africa.